Back to CLB Partners Blog
What a Biden Administration Means for New Jersey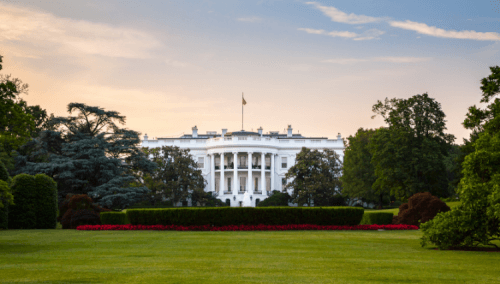 Written by Jonathan Boguchwal, Partner, CLB Partners
While on the campaign trail, Joe Biden touted an agenda focused on unity and recovery in the aftermath of a divisive presidency and a global pandemic. As President-Elect, Biden was ready to get to work and quickly announced his three-part plan to rescue, recover, and rebuild the country.
Known as Build Back Better, Biden's three-part plan consists of the American Rescue Plan, the American Jobs Plan, and the American Families Plan.
Signed into law on March 11, 2021, the American Rescue Plan is President Biden's plan to rescue the country from the crises caused by the COVID-19 pandemic. The plan is currently providing direct relief to Americans, containing COVID-19, and building a bridge to economic recovery.
The American Jobs Plan is a historic investment that will create millions of jobs, rebuild our country's infrastructure, and position the United States to out-compete China.
The American Families Plan is a once-in-a-generation investment in the foundations of middle-class prosperity – education, health care, and child care. It recognizes that policies to make life easier for American families must focus on bringing everyone along.
First 100 Days
President Biden recently celebrated his first 100 days as President of the United States on April 29. The first 100 days of a presidency can set the tone for the rest of the Administration, and Biden ended his first 100 days with monumental achievements.
On his very first day, like many newly sworn in presidents, President Biden signed a series of executive orders reversing many policies created under the Trump Administration. These included reversing the ban on people coming to the United States from certain countries, halting construction on the "border wall," rejoining the Paris Climate Accord, and requiring masks in federal buildings.
Initially promising 100 million doses of the vaccine in his first 100 days, President Biden quickly doubled the goal thanks to the success of his vaccine distribution plan. He also promised desperately needed economic relief within his first 100 days, which he accomplished by signing the $1.9 trillion Covid-19 relief package into law, otherwise known as the American Rescue Plan.
New Jersey Economy
Unsurprisingly, certain sectors of the New Jersey economy were rocked by the pandemic. While it's still too early to measure some long-term impacts to parts of the economy, early analysis is showing that the robust and aggressive federal aid packages in response to the pandemic have, for now, kept the state's balance sheets not only intact, but outperforming even the most optimistic estimates. There are warning signs that once the federal aid packages run their course, that a leveling out of the economy will take place and long-term budgetary planning will be necessary.
In all, New Jersey and its residents will receive more than $25 billion in federal aid thanks to President Biden and the American Rescue Plan. Governor Murphy's press secretary said that funding from the American Rescue Plan Act would generally allow the administration to "redouble our efforts to fight COVID, vaccinate our citizens, and rebuild our economy." Out of the $25 billion sent to New Jersey, approximately $9.5 billion of that aid was sent directly to four million New Jersey households in the form of stimulus payments. Many New Jerseyans used the stimulus payments to pay rent, buy food, or other needed supplies that will help spur the New Jersey economy.
For the remaining federal funds:
More than $3 billion will go to New Jersey counties and municipalities
$2.7 billion will go to NJ school funding for public schools
Nearly $900 million will go to colleges and universities in the state
New Jersey transit is expected to receive about $2 billion to help stabilize its budget
In May, New Jersey received the states' portion of the federal aid, or $6.24 billion, which must be used for specific purposes such as funding ongoing public health and economic recovery needs. The governor has offered few details on how he plans to spend these funds but has said it would boost New Jersey's ongoing efforts to vaccinate residents and reopen schools and the New Jersey economy.
New Jersey Budget
Before receiving federal funds from the American Rescue Plan, New Jersey's budget was in trouble. Anticipating as much as a $10 billion revenue shortfall through FY2021, New Jersey Governor Phil Murphy revised his FY2021 budget proposal six months after announcing it.
Murphy's revisions to the New Jersey budget saw a spending decrease of $1.25 billion and a selection of progressive tax policies expected to produce more than one billion dollars by the end of New Jersey budget FY2021. The revised New Jersey budget also proposed that the state borrow billions to help address the massive economic fallout created by COVID-19.
As a result of Governor Murphy's careful planning, a surge in revenue, and the billions in federal aid, the New Jersey budget will now carry a $10.1 billion surplus — about 25% of the total budget — into FY2022 that starts on July 1. New Jersey's economy is in an excellent position, especially in the aftermath of a global pandemic. The FY2022 budget that will pass shortly contains many provisions to use today's robust revenues to help support the State over the next several years when revenues may level out.
New Jersey Infrastructure
Congress is now negotiating President Biden's second plan under his Build Back Better agenda, otherwise known as the American Jobs Plan. This monumental infrastructure package will:
Fix highways; rebuild bridges; and upgrade ports, airports, and transit centers.
Rebuild clean drinking water infrastructure, a renewed electric grid, and high-speed broadband to all Americans.
Modernize homes, commercial buildings, schools, and federal buildings.
Create caregiving jobs and raise wages and benefits for essential home care workers.
Revitalize manufacturing, ensure products are made in America, and invest in innovation
Create good-paying union jobs and train Americans for jobs of the future.
Many projects that would improve New Jersey's infrastructure have stalled in recent years but could come back to life with funds from President Biden's next plan. United States Senators Robert Menendez and Cory Booker said they're "on a mission" to see that New Jersey gets its fair share of President Joe Biden's $2.3 trillion infrastructure plan.
The infrastructure plan takes on added significance for the national and state economy as it has long been understood that infrastructure investment not only creates jobs in the short term, but also has a positive multiplier effect with connectivity to a majority of business sectors that creates economic growth for years to come.
New Jersey Infrastructure: Port Authority of New York and New Jersey
A component of Biden's plan is upgrading ports and transit centers, and the Port Authority of New York and New Jersey would greatly benefit from federal funds. Because of the pandemic, the Port has lost $1.7 billion in revenue and has been forced to undertake a full review of its long-term capital plan which includes New Jersey infrastructure projects.
New Jersey Infrastructure: The Gateway Project
The Gateway Project, stalled under the Trump Administration, is a critical rail infrastructure project that would carry Amtrak and New Jersey Transit trains under the Hudson River. The project consistently ran into bureaucratic and funding roadblocks, reportedly stemming from President Trump's feud with US Senator Chuck Schumer, who made the Gateway Project one of his top priorities. However, President Biden has expressed support for this New Jersey infrastructure project, which aligns with his infrastructure goals under the American Jobs Plan. Recently, the Environmental Impact Statement for this project was approved by the federal government which is a major milestone for any large-scale project.
Prosperity for New Jersey
Once the American Jobs Plan is signed into law, the focus moves to the final phase of Biden's Build Back Better agenda, the American Families Plan. The American Families Plan will:
Make education more affordable and expand opportunity.
Provide economic security for families.
Expand tax credits that help workers and families.
In his first 100 days, Biden rolled out a successful vaccine distribution plan across the country, signed the American Rescue Plan into law, and provided billions of dollars to the New Jersey economy leading to a $10 billion New Jersey budget surplus for FY2022.
President Biden made, what many claimed, were lofty promises for his first 100 days as Commander in Chief. But, it's clear that President Biden more than delivered. The New Jersey economy has already significantly benefited from Biden's actions, and is poised to continue to benefit from future Biden administration priorities.